Home » Uncategorized
QPIRG Concordia is hiring a Volunteer and Administration Coordinator (deadline: March 12)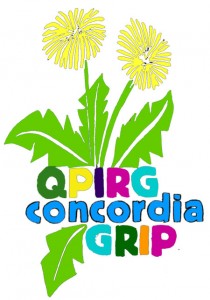 The Quebec Public Interest Research Group at Concordia is a resource centre for student and community research and organizing. We strive to raise awareness and support grassroots activism around diverse social and environmental issues. Our work is rooted in an anti-oppression analysis and practice. We seek to make campus-community links and inspire social change through engaging, inclusive and non-hierarchical approaches.
Along with the shared role of organization coordination, the Volunteer and Administration Coordinator is responsible for: volunteer intake and orientation, managing the alternative resource library, policy development, and administrative support to QPIRG's Board of Directors and Conflict Resolution and Complaints Committee.
A full job description is available on request.
Sole Responsibilities:
· Board Administration
· Volunteer Intake and Coordination
· Organizational Policy Development
· Alternative Resource Library Coordination
Responsibilities Shared with Co-Coordinators:
· Office Coordination and Organization
· Board and Staff Relations
· Outreach and Community Building
· Reception and Internal Communications Coordination
· Project Coordination (e.g. DisOrientation, Study In Action, CURE, etc.)
· Organizational Outreach and Promotion
· Basic Office Tech Support
Requirements:
· Minimum 3 years of experience (paid or volunteer) in community organizing, activism and mobilization
· Extensive experience coordinating volunteers
· Experience developing organizational policy for non-profits and/or community organizations
· Good understanding of the structure and day-to-day operations of non-profits and/or community organizations (ie. board, staff and volunteers)
· Ability to support and organize with both volunteers and staff
· Extensive experience with consensus decision-making
· Strong meeting facilitation skills
· Anti-oppression analysis and proficiency in applying this to all levels of decision-making
· Ability to work non-hierarchically in groups
· Ability to work in a highly collaborative staff team environment
· Ability to work and network with a broad range of people and political perspectives
· Ability to work autonomously
· Commitment to social change, and to QPIRG's mandate to fight all forms of oppression
· Ability to speak French and English
· Strong English writing skills
· Strong public speaking skills
· Knowledge of word processing, desktop publishing, graphic design, and web design programs (eg. MS Office, Photoshop, WordPress or equivalents)
· Experience with conflict resolution and mediation
· Experience with programming events
· Experience with event publicity and outreach
· Knowledge of Montreal-area community groups
· Familiarity with PIRGs
· Excellent knowledge and awareness of political, social, economic and environmental justice issues
· Ability to work occasional irregular hours
· Ability to problem-solve and prioritize tasks in a busy work environment
Assets
· Ability to write in French
· Experience doing English to French written translation
· Strong graphic design and desktop publishing skills
· Knowledge of tech security and internet privacy issues
· Familiarity with Concordia University, its institutions, and the campus milieu
· Experience in student organizing
· Knowledge of languages other than English and French, including sign languages
· Experience with budgeting
Employment equity:
QPIRG Concordia has an employment equity policy (full policy available upon request). People from marginalized groups are encouraged to apply. Please state in your cover letter that you would like to be considered for employment equity.
Contract duration:
This is a two-year renewable contract, beginning at the start of April, 2012.
Salary:
Starting salary is $18.64/hr for 30 hours a week (including some evening and weekend work) as well as 2 weeks of paid vacation and health benefits.
How to apply:
For more information, including the full job description and the employment equity policy, contact QPIRG-Concordia at (514) 848-7585, or email us at hiring@qpirgconcordia.org.
-> Please send us your cover letter and CV, by e-mail, mail, or in person, BEFORE 5pm on MARCH 12, 2012. Please indicate "Attn: Hiring Committee" on your e-mail or letter.
Mailing Address:
QPIRG Concordia
1455 de Maisonneuve West,
Montreal, QC, H3G 1M8
E-mail: hiring@qpirgconcordia.org
Street address:
QPIRG Concordia
1500 de Maisonneuve West, Suite 204
Open Monday – Thursday, 12 – 6pm
For more information about QPIRG Concordia, please visit our website www.qpirgconcordia.org or come by the office! Our office is located at 1500 de Maisonneuve West, #204 (office hours: Monday to Thursday between 12-6pm).
QPIRG-Concordia: Your campus-community link for social change!
Office Accessibility: Please note that QPIRG Concordia is located in a wheelchair accessible office. There is a wheelchair access ramp at the front of the building, with two 40″ non-automated doors in the front. The office is located on the second floor, accessed with an elevator. The doors to the office and the washroom are non-automated and 30″ and 33" wide respectively. There is one wheelchair accessible washroom located in the women's washroom. QPIRG Concordia is also a scent-free and chemical-free space.