Home » Uncategorized
Building A Solidarity City Together! Teach-In & Conference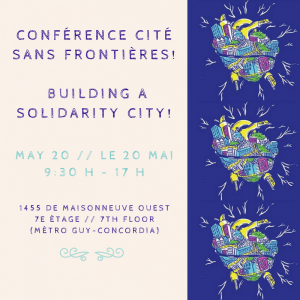 When: Saturday, May 20, 2017, 9:30am to 5pm
Where: 1455 de Maisonneuve West, 7th floor (métro Guy-Concordia)
What: Solidarity Across Borders is organizing a one-day teach-in and conference to discuss and share strategies about building and reinforcing local networks of mutual aid and support, as well as assuring access to essential services, for non-status migrants and all residents of Montreal.
We're inviting local community members — documented or undocumented; directly affected and support persons — to join together to continue building a Solidarity City in Montreal, a campaign launched by Solidarity Across Borders in 2010.
Recently the City of Montreal misleadingly declared itself a Sanctuary City, falsely giving the impression that Montreal no longer cooperates with the Canada Borders Service Agency (CBSA). Let's come together to make Montreal a true Solidarity and Sanctuary City, from the ground up.
Confirmed workshop and discussion topics include:
a) Education For All (Collectif éducation sans frontières)
b) Health Care For All (Health Care For All Committee)
c) Open the Borders: Cross-Border Solidarity from Canada-US to US-Mexico
d) Non-Collaboration with the Canada Border Service Agency (CBSA)
e) Access for All: Healthcare based on Need Not Status! (Friends of Marcia)
f) Hip Hop and Migrant Justice: Artists for a Solidarity City
**DETAILED SCHEDULE on the Facebook event page**
Free. Welcome to all.
Wheelchair accessible. Childcare on-site.
Please get in touch about any accessibility needs.
Pre-registration is strongly encouraged: click here for the registration form
~~This event is organized by QPIRG Concordia working group Solidarity Across Borders~~