Home » News
FALL FEAST: An anti-colonial evening of food, film & resistance (November 23)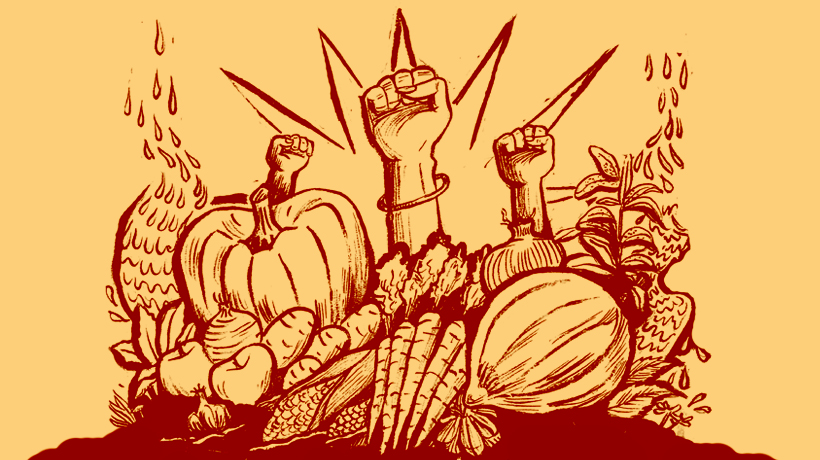 FALL FEAST: An anti-colonial evening of food, film and resistance
With members of the community of Kanehsatake on local efforts to resist land fraud and to assert sovereignty and self-determination
Thursday, November 23, 2017, 6pm
Native Friendship Center of Montreal
2001 boulevard St-Laurent (métro St-Laurent)
doors & meal at 6pm; evening events to continue until 9pm
facebook: www.facebook.com/events/2008657429370560
Free – Welcome to all! — Wheelchair accessible
Childcare on-site — Bring  your kids! — Whisper translation (EN-FR)
Please get in touch about any accessibility needs.
-> With members of the community of Kanehsatake on local efforts to resist land fraud and to assert sovereignty and self-determination
-> Presentation by Beric Manywounds, who will speak to leaving their reserve in order to come study in Montreal as well as well as their personal healing journey and being a two spirit person.
->  Short films by subMedia.tv
-> Hot food by the Native Friendship Center of Montreal, Midnight Kitchen and People's Potato. Food to be served at 6pm sharp.
This event takes place on the traditional territory of the Kanien'kehá:ka. The Kanien'kehá:ka are the keepers of the Eastern Door of the Haudenosaunee Confederacy. The island called "Montreal" is known as Tiotia:ke in the language of the Kanien'kehá:ka, and it has historically been a meeting place for other Indigenous nations, including the Algonquin peoples.
—–
Continuing an annual tradition, several Montreal-area social justice organizations committed to anti-colonial organizing and action, are presenting this evening of food, film and resistance. We have decided to cease using the term "Thanksgiving". We are making this change as a way of distancing ourselves from colonial settler myths, and rather position our gathering in a tradition of anti-colonial education and resistance.
This event is co-organized by Frigo Vert and QPIRG Concordia with the support of People's Potato, Midnight Kitchen, Food Against Fascism, submedia.tv, and the Concordia Student Union (CSU).

INFO:
tél: 514-848-7585
e-mail: yesfrigo@gmail.com / info@qpirgconcordia.org
www.qpirgconcordia.org
Please get in touch for any accessiblity needs @ yesfrigo@gmail.com or 438-387-7586
Please ask for Alex, Hunter or Hilary when you call.