Home » Journal
Journal
[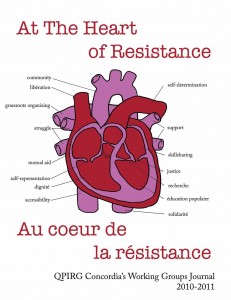 Check out the online version of our inaugural working groups journal: At the Heart of Resistance]
At the Heart of Resistance: QPIRG Concordia's Working Groups Journal 2010-11
Working groups are the heart of QPIRG Concordia; they are close to thirty groups, collectives, networks, projects, and campaigns that organize together in the Montreal community, and beyond, on a wide variety of issues directly related to social and environmental justice.
Together, QPIRG Concordia's working groups share skills and knowledge, engage in popular education and art, organize events and protests, provide direct support and solidarity, publish alternative research and analysis, and, in general, contribute, encourage, and maintain resistance in diverse and creative ways. At the Heart of Resistance shows the multifold ways in which our working groups make links between different struggles against oppression and exploitation.
At the Heart of Resistance reflects community organizing work, a spirit of resistance that happens day-to-day, year-round, building on the work of those that have gone before us, and hopefully providing contributions for the future.
Articles in At the Heart of Resistance (2010-11):
Some Brief Truths About the Life Sentence in Canada – contributed by Recon
Communicate to Educate. Educate to Liberate. – contributed by Certain Days Political Prisoner Calendar Committee
Les Queers sortent en solidarité avec la Palestine – contribution de Qteam
Why We Support Secure Technologies – contributed by Anarchist Tech Support
Interview with Laura Whitehorn – contributed by The Prisoner Correspondence Project
The Story of the Ste-Émilie Skillshare / Photo-essay – contributed by the Ste-Émilie Skillshare
A Sustainable Campus? – contributed by TAPThirst
Answers for those who question authority – contributed by Radical Reference
Basic Sound System Terminology – contributed by Montreal Sound Team
Stop Niocan: No Mining On Stolen Land! – contributed by the Indigenous Solidarity Committee
Status for All! Solidarity City – contributed by Solidarity Across Borders
Stop the deportation of Dany Villaneuva – contributed by the Dany Villenueva Support Committee
We remember, we support – contributed by Justice for the Victims of Police Killings
Refuse to be abused – contributed by Project X
Commentaire sur la solidarité policière et sur les crimes qui en découlent – contribution du Collectif opposé à la brutalité policière
Community advisory: If CSIS Comes Knocking – contributed by The People's Commission Network
Montreal's Security Industries Map – contributed by The People's Commission Network
-> You can view At the Heart of Resistance ONLINE here:
http://issuu.com/qpirgconcordia/docs/wgjournal2011