Home » Working Groups
Working Groups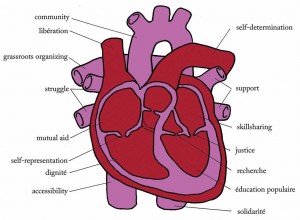 QPIRG CONCORDIA WORKING GROUPS 2018
(full descriptions and contact information included below)
WORKING GROUPS are the heart of QPIRG Concordia. They are groups, collectives, networks, projects, and campaigns that organize together in the Montreal community, and beyond, on a wide variety of issues directly related to social and environmental justice.
Together, QPIRG Concordia's working groups share skills and knowledge, engage in popular education and art, organize events and protests, provide direct support and solidarity, publish alternative research and analysis, and, in general, contribute, encourage, and maintain resistance in diverse and creative ways. Read more about this year's working groups below.
Our 2018 Working Groups include:
Accessibilize Montreal
Building Community
Certain Days Political Prisoner Calendar Committee
Collectif Opposé à la Brutalité Policière
Comité d'action des personnes sans-status / Non-Status Action Committee
Contempt of Court: Legal Clinic by and for Social Movements
Convergence des luttes anticapitalistes (CLAC)
Équipe Sonore / Sound Team
Food Against Fascism
Game Curious Montreal
GARAM MASALA (Montreal Alliance of South Asian Leftists and Allies)
La Grange
Justice for Victims of Police Killings
Montreal Anarchist Bookfair Collective
Montreal Childcare Collective
Open Door Books
Prisoner Correspondence Project
Projections Insurgées
Queer Between the Covers
Recon
Refus Global Now
Resist Trump and the Far Right Network
Sidetracks Screenprinting Collective
Solidarity Across Borders
subMedia.tv
Taking What We Need
Tout Le Hood En Parle
(full descriptions and contact information included below)
Accessibilize Montreal

Accessibilize Montreal! aims to make Montreal a more accessible place in every way: from the mindsets and interactions between Montrealers to the infrastructure that surrounds us. By holding workshops and providing trainings we seek to challenge mainstream perceptions of disability, and through advocacy and direct action we protest transit and systemic discrimination. Join us in our movement beyond ableism and a respect of diversity!

access4mtl@gmail.com
www.mouvementexclusif.org
www.facebook.com/access4mtl
Building Community

Building Community is a citizens' education project of the Milton-Parc Citizens' Committee (CCMP). We seek to encourage community development through popular education and social action rooted in ecological and democratic principles. Throughout the year, we host workshops, guided tours, screenings, and lectures on climate change, cooperative housing, and more, and support campaigns on a variety of community issues including protecting green spaces and promoting increased social housing stock.

514-561-4656
www.facebook.com/solidaritecommunautaire
Certain Days Political Prisoner Calendar Committee

The Certain Days Political Prisoner Calendar Committee works to support, educate about and fundraise for political prisoners through the production of a yearly calendar. The calendar is a project produced by organizers in Montreal,Toronto and New York City, with the support of 3 political prisoners in New York State. We work with an anti-imperialist, anti-racist, feminist, queer- and trans-liberationist perspective to help free our movement's political prisoners.

514-848-7585
info@certaindays.org
www.certaindays.org
www.facebook.com/pages/Certain-Days-Freedom-for-Political-Prisoners-Calendar
Collectif Opposé à la Brutalité Policière

The Collective Opposed to Police Brutality (COBP) is an autonomous group which brings together victims, witnesses, and/or those concerned about police brutality and all violence perpetrated by the police. The goal of the COBP is not only to denounce harassment, violence, intimidation, arrests, and abuse of power by the police as well as to inform people about their rights when dealing with the police, but also to support victims by helping them to, for example, file complaints and deal with false accusations.

514-395-9691
cobp@riseup.net
www.cobp.resist.ca
Comité d'action des personnes sans-status / Non-Status Action Committee

The Non-Status Action Committee was created to oppose the possible deportation of Haitians and Zimbabweans living in Canada and previously protected by a moratorium on deportations. Since the lifting of the moratorium, we advocate for the rejection of a case-by-case system and the adoption of a overall measure by the federal and provincial governments, including everyone who is non-status.

514-383-8281
comitedactionsansstatut@gmail.com
www.facebook.com/Comité-daction-des-personnes-sans-statut-631945366949579
Contempt of Court: Legal Clinic by and for Social Movements

The Contempt of Court Legal Clinic is a project by and for people active in social movements. Our goal is to support people facing legal repression as a result of actions that share an affinity with our political principles. Our project is based on solidarity and we intend to complement existing legal support initiatives. We recognize the legal skills and experience of people engaged in social struggles. We want to share our experience of the justice system, both theoretical and lived, in the context of monthly or bimonthly clinics, through individual support, and through events like workshops on particular infractions or accusations. Our objective is to contribute to building enduring power in relation to the justice system. If you are facing charges, if you want to respond to state violence in the courts, or if you want to share your experiences and offer support, you're welcome to join us!

outrageautribunal@riseup.net
www.outragedutribunal.net
www.facebook.com/Outrageautribunal
Convergence des luttes anticapitalistes (CLAC)

The Anti-Capitalist Convergence (CLAC) is a coordination space for the anti-capitalist radical left in Montreal. The CLAC has a mandate to push an anti-capitalist analysis through the organization of campaigns and demonstrations, such as the annual anti-capitalist May Day. The CLAC is a space which is explicitly anti-capitalist, anti-patriarchy, anti-authoritarian, and anti-colonial.

info@clac-montreal.net
www.clac-montreal.net
Équipe Sonore / Sound Team

Équipe Sonore/Soundteam provides sound services for Montreal area community groups that cannot afford to pay professional rates. We build, maintain and operate P.A. systems for community events, rallies, conferences and performances. We also strive to distribute and share the technical knowledge of audio production systems. Our purpose is to support people's grassroots initiatives and act in the interests of communities and their struggles for economic and political justice.

equipesonore@riseup.net
http://equipesonore.wordpress.com
Food Against Fascism

Food Against Fascism prepares and distributes a free hot meal in a non-exclusionary manner to folks in Bethune Square every Saturday at 2 p.m. One of the goals of the project is to try to engage and familiarize people of various backgrounds with anti-fascist organizing, in an ongoing effort to raise consciousness about the rise of the far-right both locally and abroad

foodagainstfascism@gmail.com
www.facebook.com/bouffecontrelefascisme
Game Curious Montreal

The Game Curious Montreal Collective organizes community events that explore digital and non-digital games from a radical, anti-capitalist, and anti-oppressive perspective. We aim to create a space specifically for people who are new to games, or who feel marginalized or excluded by the dominant culture.

gamecuriousmtl@mrgs.ca
http://gamecuriousmtl.mrgs.ca
GARAM MASALA (Montreal Alliance of South Asian Leftists and Allies)

We are a Montreal-based group called "GARAM MASALA" (an acronym for "Groupe d'Action Révolutionnaire sud-Asiatique de Montréal / Montreal Alliance of South Asian Leftists and Allies") who share progressive politics: anti-caste, anti-colonial, feminist, in support of Indigenous and adivasi self-determination, against all forms of oppression including sexism, homophobia ableism, and racism, including Islamophobia and anti-Semitism; support for progressive secular social justice movements on the subcontinent, and here in North America. We also confront and challenge all forms of oppression that exist within South Asian diasporic communities.

garammasalamontreal@gmail.com
www.facebook.com/GaramMasalaMontreal
La Grange

La Grange Farm Collective is a group of Montreal and Laval residents who like to play in the dirt. Working on, restoring, and maintaining a piece of land located near Terrebonne in Laval (accessible via STM), the group aims to create a space where people can come together to share DIY farming skills and the joys of organic, local food.

438-998-0500
lagrangefarmcollective@gmail.com
Justice for Victims of Police Killings

The Justice for the Victims of Police Killings Coalition brings together directly affected families and friends of the victims of police killings, as well as their allies. Our main goals and purpose as a coalition are to remember the victims who lost their lives due to police violence, impunity and abuse; and to support their families and friends in any way we can. The Coalition follows from years of struggle and support for the families and friends of police killing victims. The Coalition currently involves the family members and friends of Anas Bennis, Claudio Castagnetta, Ben Matson, Brandon Maurice, Quilem Registre, Gladys Tolley, Jean-Francois Nadreau and Fredy Villanueva, all of whom died as a direct result of police actions and interventions. We continue to reach out to family and friends of other victims of police killings.

22oct.mtl@gmail.com
http://22octobre.net
Montreal Anarchist Bookfair Collective

The Montreal Anarchist Bookfair — and month-long Festival of Anarchy (May 2018) — bring together anarchist ideas and practice, through words, images, music, theatre and day-to-day struggles for justice, dignity and collective liberation. The Bookfair and Festival are as much for people who don't necessarily consider themselves anarchists, but are curious about anarchism, as they are spaces for anarchists to meet, network and share in a spirit of respect and solidarity. All are welcome. The Bookfair and Festival are together one of the largest anarchist events in North America, and for the past two decades, an important gathering and reference point for anti-authoritarian ideas and practice. Curious about anarchism? Come check us out!

info@salonanarchiste.ca
www.anarchistbookfair.ca
Montreal Childcare Collective

The Childcare Collective offers strategic childcare in response to the fact that childcare is frequently overlooked and underappreciated. We aim to assist parents, caregivers, youth and children, including but not limited to low-income communities, non-status and immigrant communities, communities of colour, and queer and trans communities.

childcarecollective@gmail.com
www.montrealchildcarecollective.com
Open Door Books

The Open Door Books (ODB) collective is part of an informal network of Books to Prisoners programs throughout North America. ODB seeks to support and work in solidarity with imprisoned people. We believe that prisons and the (in)justice system act as institutions of social control and oppression, further targeting marginalized people as a result of patriarchy, racism, homophobia, transphobia, classism, disablism, and colonialism.

514 848 7585
bookstoprisoners@gmail.com
opendoorbooks.wordpress.com
Prisoner Correspondence Project

The Prisoner Correspondence Project is a solidarity project for gay, lesbian, transsexual, transgender, gendervariant, two-spirit, intersex, bisexual and queer prisoners in Canada and the United States, linking them with people a part of these same communities outside of prison.

info@prisonercorrespondenceproject.com
www.prisonercorrespondenceproject.com
www.facebook.com/prisonercorrespondenceproject
Projections Insurgées

Formed in so-called Montreal during the spring of 2014 by Medi@s Libres, subMedia.tv and Ni Québec, Ni Canada, the folks who inhabit Projections Insurgées continue to recognize the vital importance of radical independent media and still work to build places where beautiful and dangerous ideas can live. We continue to organize screenings in various venues around the city based on anti-capitalist, anti-colonial, anti-patriarchal and anti-authoritarian principles.

projectionsinsurgees@riseup.net
http://projectionsinsurgees.wordpress.com
www.facebook.com/insurgentprojections
Queer Between the Covers

Queer Between the Covers is a volunteer collective promoting queer materials in Montreal. We organize an annual queer book fair providing access to both local and out ­of ­town authors, zinesters, independent bookstores, publishers, and community groups. The collective also runs a zine distro and organizes smaller queer ­lit events.

queerbetweenthecovers@gmail.com
queerbetweenthecovers.org
www.facebook.com/QBTC.Montreal
Recon

Re-Con is a prisoner-initiated re-integration program created in 1999. The group is made up of people serving a life sentence at the Federal Training Center in Laval, formerly incarcerated members now serving their sentence on parole, and outside volunteers. It is Re-Con's main goal to establish links between prisoners and the community after a long period of incarceration and isolation. We aim to diminish the effects of institutionalization through personal development workshops and by introducing those incarcerated to community resources which may help them re-integrate into society upon their release from prison. To this end, weekly meetings that take place both inside and outside the prison focus on exploring the various services, resources, and networks available outside the prison walls.

recon.ftc@gmail.com
Refus Global Now

We are an intersectional independent media and a production outlet. Our struggles are anti-specieist, anti-racist, anti-fascist, feminist, anti-colonial, anti-capitalist, 2SLGBTQIA+, anti-ableist and anti-classist. We are for human and animal liberation. Our page aims to be a manifesto for liberation and a platform for generations to come.

450-671-7278
refusglobalnow@gmail.com
www.facebook.com/reglonow
Resist Trump and the Far Right Network

Resist Trump and the Far Right popular education committee is a group dedicated to resisting the misogynist, racist, homophobic, transphobic, and anti-immigrant politics represented by Donald Trump and other far-right figures, through popular education and skill-sharing

resisttrumpmontreal@gmail.com
www.resisttrump.ca
www.facebook.com/Résistons-Trump-et-lExtrême-Droite-Action-Montréal-216620705476312
Sidetracks Screenprinting Collective

We are a superstar screen-printing team of volunteers whose mandate is to make screen-printing accessible to projects and organizations working for social change. Sidetracks was born out of the Ste-Emilie Skillshare and works to uphold its mandate.

514-632-4792
sidetracks.team@gmail.com
http://steemiliesidetracks.wordpress.com
www.facebook.com/sidetrackscollective
Solidarity Across Borders

Solidarity Across Borders is a Montreal-based network engaged in the struggle for justice and dignity of im/migrants and refugees. We are comprised of migrants, immigrants, refugees and allies, and come together in support of our main demands: the regularization of all migrants living with precarious status (Status for All!), an end to deportations and detentions, and the abolition of double punishment of migrants with criminal records. We are actively building a "Solidarity City" campaign, which aims to build networks of solidarity and mutual aid within the city of Montreal as well as demanding that essential services be accessible to everyone , regardless of their immigration status. Some of us have direct experiences with the immigration and refugee system; some of us come from immigrant backgrounds; all of us organize as part of a collective struggle for justice and dignity. For us, there is no such thing as "illegal" human beings, only unjust laws and illegitimate governments. We organize not on the basis of pity or charity, but rather solidarity and mutual aid.

438-933-7654
solidaritesansfrontieres@gmail.com
www.solidarityacrossborders.org
subMedia.tv

subMedia.tv is an anarchist film collective whose aim is to spread radical information and aid social struggles. We achieve this by producing high quality videos that are disseminated on the internet and through community screenings. Also we take proposals from grassroots led movements who need video to spread the word about their struggle.
Taking What We Need

Taking What We Need is an informal collective organizing to fight for the lives of our sisters and ourselves. We acknowledge and abhor the reality that many transfeminine people face on a daily basis, falling at the intersections of poverty, racism, misogyny, social isolation, and colonial violence. Taking What We Need's primary mission is to empower our sisters through discretionary funding and build solidarity within our community by collectively resisting transmisogyny.

takingwhatweneed@gmail.com
www.facebook.com/takingwhatweneed
Tout Le Hood En Parle

Tout Le Hood En Parle puts forward the testimonies, histories and cultures of people of colour
through online video interviews, as well as other multimedia.