Home » About
About
QPIRG Mandate
The Quebec Public Interest Research Group at Concordia is a resource centre for student and community research and organizing. We strive to raise awareness and support grassroots activism around diverse social and environmental issues. Our work is rooted in an anti-oppression analysis and practice. We seek to make campus-community links and inspire social change through engaging, inclusive and non-hierarchical approaches.
QPIRG Concordia is committed to being inclusive and accessible to all. We are actively opposed to all forms of discrimination and oppression. QPIRG is a volunteer-driven, student-funded, non-profit organization that is independent from the Concordia administration and student unions. Both students and community members are welcome to make use of our space and resources as well as participate in QPIRG projects.
QPIRG History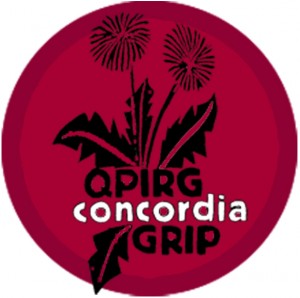 The Quebec Public Interest Research Group (QPIRG) at Concordia has been an important link between campus and the community on issues related to social and environmental justice and progressive social change. From their origins in Canada in the early 1980s, PIRGs have provided a forum and training ground for students and non-students alike to become critical and engaged community participants.
QPIRG at Concordia started in 1981 as a club funded by the student union. QPIRG's popularity grew until a student referendum in 1989 determined that QPIRG would be funded by a student fee levy. In 2010, Concordia graduate students voted in a referendum to become members of QPIRG Concordia as well. QPIRG Concordia is an autonomous group on the Concordia campus, with both student and community membership.
In the 1980s and '90s, QPIRG, like other campus-based social justice groups, was active in solidarity with human rights movements in Central America, campaigns for nuclear disarmament and global peace, opposition to apartheid in South Africa, feminist and anti-racist organizing, GLBT rights, consumer activism, and environmental justice.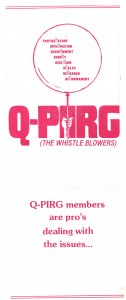 Some of the projects and activity of QPIRG in the 1980s and '90s is reflected in the working groups and projects that grew out of QPIRG, including: Right to Move/La Voie Libre; the Popular Film Series (evolved into Cinema Politica); Urgence Manif; Sustainable Concordia; Blood Sisters; Un Juste Café; Santropol Roulant; the Concordia Recycling and Composting Committee; the Vegan Lunch Program (became the People's Potato); Project Take Root (evolved into the Frigo Vert); Action Rebut; ASEED (became Equiterre); and others.
In the late 1990s, QPIRG, like other PIRGs, was active in solidarity with international self-determination and liberation movements, from Latin America to the Middle East to South Asia. This period was also marked by increasing involvement and support with indigenous sovereignty efforts on Turtle Island.
QPIRG contributed to the growing global justice movement of this period, and was associated with demonstrations and popular education work around institutions like the World Trade Organization (WTO) and the Free Trade Area of the Americas (FTAA). Our programming and working groups also increasingly reflected queer, prisoner solidarity, migrant justice, and trans struggles and self-organizing.
QPIRG Concordia has evolved from its original mandate and projects to include a wide range of community activism and research, rooted in an explicit grassroots, anti-oppression organizing framework and prioritizing consensus-based decision-making. This is reflected in QPIRG's current working groups, our core projects and publications, and our resource library as well as our support for campus and community groups through co-sponsorships, endorsements, and discretionary funding.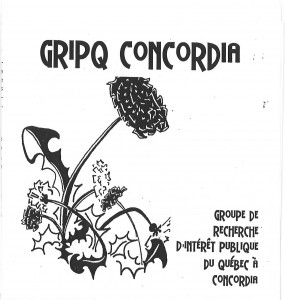 In the past five years, QPIRG has specifically developed a community-based social justice research model through core projects like Study in Action, the Community-University Research Exchange (CURE), and the Convergence Research Journal.
PIRGs were set up as consumer advocacy groups in the United States in the early 1970s, but PIRGs in Canada have operated on a different model. They involve and empower students and the majority of their funding comes directly from students, unlike the NGO model of PIRGs currently operating in the US. Most PIRGs in Canada operate on a consensus decision-making model, and are directed by a volunteer board of governors composed of students and other community members. The diversity among PIRGs reflects the diversity of each group's membership and volunteer board. PIRGs in Canada communicate with each other, especially PIRGs in geographical proximity, but they are ultimately autonomous organizations that are directly accountable to their campus and community memberships.
In essence, PIRGs complement the university experience by linking theory with practice while breaking down barriers and creating links between knowledge work on campus and in the community.
QPIRG Structure
QPIRG's structure can be broken down as follows:
Membership
Since 2007 all undergraduate students at Concordia become automatic members of QPIRG Concordia through the 0.39$ per credit paid with regular school tuition. Since Fall 2010, all graduate students at Concordia are also become automatic members through the 0.50$ per student per semester paid with regular school tuition. Membership also consists of active volunteers and members of our working groups, solidarity groups and affiliate groups.
Fee Refunds
Should you wish to opt out of our fee levy (39 cents per credit for Concordia undergraduate students, and 50 cents per semester for Concordia graduate students) our opt out period is the two weeks following the last day for academic withdrawal. In order to receive your fee refund you need to visit QPIRG Concordia during the opt out period during office hours and bring along your student id and show us your student account record with the up-to-date number of credits you are taking (you can provide this info in different ways: by showing your academic record via your own laptop or mobile phone; by logging onto to your myconcordia portal from a computer at our office; or by providing a printout of your record).For more info on opting-out, consult the Fee Levy Info tab.
Working Groups
The Working Groups are the heart of QPIRG. The Working Groups program aims to support small groups of volunteers who want to organize around a specific issue, idea, project, or campaign. Groups usually organize around o n-going or long-term issues, though some focus on a particular time-sensitive theme or topic depending on the year or semester. The sizes of working groups usually range from five to fifteen members, though some are even larger at times. While working groups may begin and organize independent of board or staff involvement, they are considered to be a part of QPIRG's programming and are an integral part of the organization. The staff and board of QPIRG support the Working Groups by offering logistical, administrative, and financial support. This may look like facilitating meetings or discussions, strategizing on a publicity campaign, or training in budgeting and volunteer recruitment. Each working group can apply for a yearly budget, and has access to shared QPIRG resources such as meeting spaces, office supplies, a photocopier, fax, and computers. QPIRG staff also support the working groups with financial and office administration.
Is there something you're passionate about? Do you want to get a small group working together o n an issue? New working groups can be started at any time, or you can join an existing group. Working groups are always looking for more members!
For more information on our current working groups, affiliate groups and solidarity groups, visit the WORKING GROUPS page.
Committees
QPIRG activities are sometimes organized using a committee structure, where members of the Board of Directors, staff people and volunteers work together to develop a project or implement a program. Some of these committees include the Study In Action organizing committee, the Library committee, the Programming committee and the Community-University Research Exchange (CURE) committee. Please do get in touch if you are interested in participating in any of these committees or to learn about more volunteer opportunities at QPIRG!
Board of Directors
At QPIRG, the board plays an integral part within the organization. With regular meetings and active participation in all aspects of QPIRG, board members set the organization's agenda and direction, and support the staff. Members gain valuable experience and training in anti-oppression, how to be an employer, community organizing, and consensus building. A new board is elected during the fall semester at QPIRG's Annual General Meeting (AGM), although new members can join at any time with consensus from the current board. People interested in joining QPIRG's board should talk to the staff to get more information. The Board of Directors consists of a 12 seats – 6 seats are reserved for Concordia student members, and the other 6 are reserved for Community members who may or may not be Concordia students. This reflects our mandate to create campus-community links.
The Board of Directors can be contacted directly at board@qpirgconcordia.org, though for most matters it is best to email QPIRG at info@qpirgconcordia.org.
Staff
QPIRG Concordia employs a staff of both permanent, work study and contract employees who help maintain the day to day functioning of the organization and play coordinating roles for many of our core projects and programs.
QPIRG Concordia currently employs three full-time staff members. Administration and Communications Coordinator, Finance and Fundraising Coordinator and Programming and Working Groups Coordinator. They are collectively responsible for the operations of the organization.
Our current work study students are an Alternative Library  Coordinator and an Outreach Coordinator.
Currently, QPIRG works with two IT technicians and a bookkeeper.
Conflict Resolution and Complaints Committee
Our Conflict Resolution and Complaints Committee (CRCC) is currently comprised of 4 individuals. The CRCC follows a CRCC policy to address complaints involving QPIRG members that cannot be resolved by the board of directors. The CRCC can be emailed directly at crcc@qpirgconcordia.org, though for most matters it is best to email QPIRG at info@qpirgconcordia.org.